Spicy Cashew Vinaigrette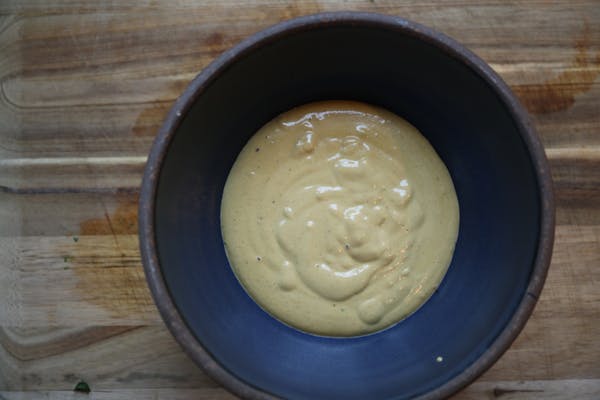 This is a variation of the Cashew Vinaigrette we serve with our Taco Salad in the restaurnt. I love this recipe because it has all the creaminess of more indulgent dressings like ranch but it's completely vegan. It's incredibly easy to make and works well as a salad dressing, sauce for tacos or dip for veggie chips.
1/2 cup salted & roasted cashews
1/4 cup organic canola oil
3 tablespoons acid (I like to use 2 T lemon juice and 1 T pickling liquid from jalapeños but anything works)
1 teaspoon herbs (cilantro, scallion, basil, mint all work)
1 teaspoon dried spices (paprika and other dried chilies, coriander, cumin... really any combo will work and add kick)
1-2 pickled jalapeño slices
Add all ingredients to a blender and blend until super creamy... add a bit of water if it looks like it isn't coming together and needs to be a bit more loose.