Lobster Salad Tostada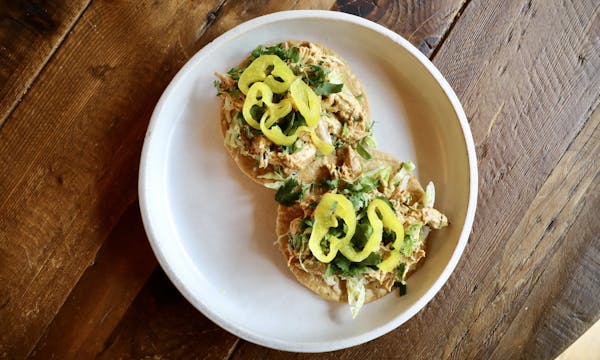 This is another super versatile recipe which is great for a summertime lunch. It's basically our take on a classic chicken or seafood salad sandwich... but with more spice and heat! This items started as a Maryland Crab tostada at the DC shop but we now offer it as a Lobster tostada at the other shops as well. I didn't have any lobster or crab on hand this weekend so I made it with leftover rotisserie chicken - simple and super tasty.
4 tostada shells
1 cup guac or smashed avocado
1 1/2 cups finely shredded slaw, romaine or iceberg lettuce
1 lb lobster or chicken salad
some pickled onions, peppers or any other pickled item you may have in the fridge
chopped herbs (basil, scallion, mint, scallion all great) for garnish
Assemble tostadas by gently spreading guac or avocado on the tostada shell.
Add a bit of lettuce or slaw, lobster salad, and garnish with pickles and herbs.
Lobster, Crab or Chicken Salad
1 lb pulled meat
1/2 cup chipotle mayo
2 teaspoon lemon juice
2 teaspoons dried spices (anything from curry powder to chili powder or a mix of other things in your spice cabinet will do)
1/2 cup fresh herbs, chopped (scallion & cilantro work great)
1 teaspoon kosher salt (plus more to taste)
Gently fold all ingredients together in a large bowl.